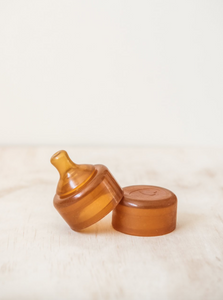 Quoddle Replacement Teat With Cover- Medium Flow
This is for the medium flow 

Beautiful all-natural rubber replacement teat and cover for the Baby Quoddle.
Plastic, BPA, polycarbonates, phthalates and PVC Free
Pure hevea rubber
Perfectly shaped for composite or bottle feeding
Medium flow
Easy-to-attach teat, and bottle cap to seal the bottle when not in use
Designed by Baby Quoddle 
Made in Malaysia
CARE: It is most important that the rubber teats and cap be cared for as per instructions. The rubber is all-natural and cannot be exposed to heat. The teats should be washed in soapy water and then can be placed in Milton solution for the required time and removed from the solution and stored in a container somewhere cool. 
Warning: This bottle is glass and designed for nursing, not to be given to baby/child unsupervised!
---
We Also Recommend